The Dorothy Draper Madness started over the weekend when I was at my sister's house for my nephew's birthday party. I went in the basement to grab a drink and there, under the dart board, sat a Dorothy Draper Espana nightstand. I was aghast. After explaining to everyone that this was a travesty that it was sitting in the basement, I began a search to find its value. Now, I'm not sure if it was real or not, but it had me on a kick to own one for our upcoming home. Low and behold, there was one on eBay claiming to be an original and located in the next town over from me! I had to have it. Long story short, I sat in front of my computer last night screaming and panting over winning this dresser and it's all mine! I paid a cool $500 for it (a little higher than I wanted to go), while it's being sold on
1st Dibs
for $4800 (which makes me feel a whole lot better about the $500) Here's another one on
Etsy
going for $675, which is also not a bad deal. Seriously, what a hot piece of furniture she is: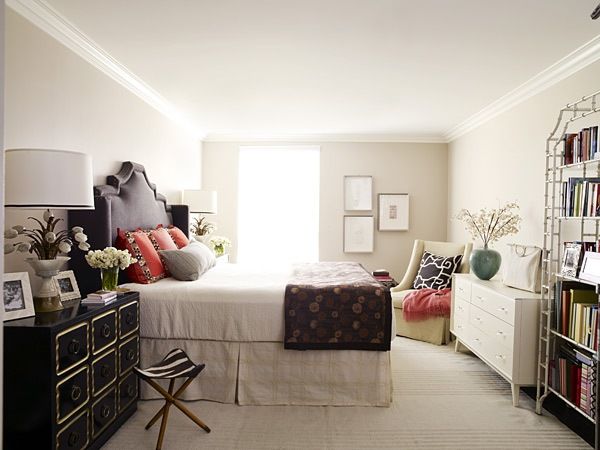 A little background on Dorothy Draper , she was an American interior decorator from the 1920s - her death in 1962. A seriously interesting woman, she was married to the personal doctor of Teddy Roosevelt when he was diagnosed with polio. She was also the cousin to amazing designer, Sister Parish. Her style was very anti-minimalist and used bright colors and large prints in her designs. She was quoted as saying: "Never look back, except for an occasional glance, look ahead and plan for the future. Success is not built on past laurels, but rather on a continuous activity. Keep busy searching out new ideas and, experimentally, keep ahead of the times, or at least up with them."
She was said to always be trying new things and pushing people to their limits. Dorothy was the founder of the style "Modern Baroque", adding modern flares to classic styles. She's even said to be to decorating what Chanel was to fashion. How cool is that?
One of my destinations in life is to get to The Greenbrier Hotel in White Sulpher Springs, West Virginia. Can you imagine staying in this paradise?
One of my favorite design blogs,
Marcus Design
, even used her espana chest in her logo:
And if you're a serious DIYer, you can follow
her directions
on how to Ikea hack your own espana night stands! They're gorgeous!
I can't wait to choose my dresser's location in our new home! Maybe Sex and the City style in my home office: